How Does Freight Shipping Work
Freight shipping is a complex and important process. In our blog post, we talk about the meaning of freight shipping and how it works. Feel free to check it out.
01/08/2022
How Does Freight Shipping Work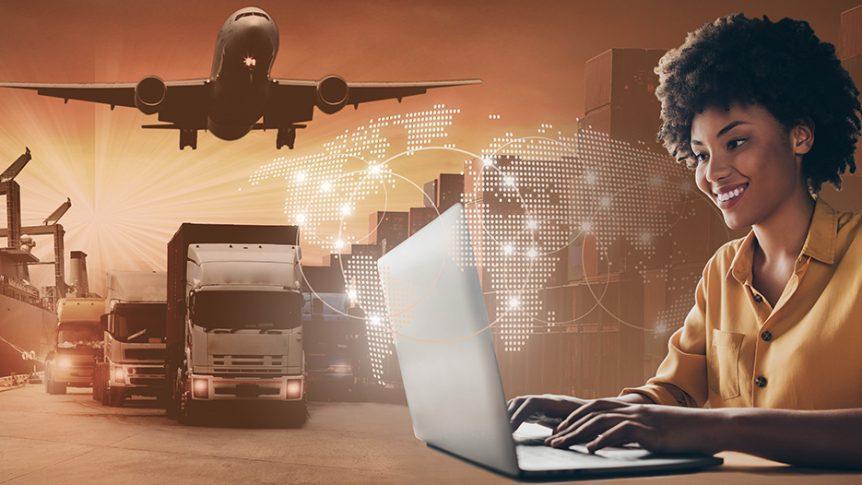 Freight transportation is an important and complex process that requires a professional approach. It is a process of transporting goods, commodities, large items, and any other bulk freight from one place to another.
Freight transportation is performed by freight shipping companies or individuals (owner-operators) that can utilize various transportation methods and vehicles. For a better understanding of the shipping process, you should know the primary characteristics that define it.
Basic Things That Define Transportation
Freight transportation, whether it is domestic or international, can be complicated even for professional carriers. Each carrier should be able to handle these four services:
Logistics
Freight transportation
Distribution and warehousing
International handling and drayage
Logistics
When you don't want to burden your business with the logistics department, the carrier company that you decide to work with should be able to handle all the logistics processes you require. A third-party logistics company can fully satisfy your needs and provide any service from raw materials delivery to product distribution.
Freight Transportation
When working with a freight carrier, be sure they can manage a stable flow of goods. Whether it is a factory to warehouse or warehouse to the buyer delivery. Price negotiations depend on you and the types of services you require.
Distribution and Warehousing
When your business grows, you might require a warehousing service to store your products before shipping. Lots of companies can provide distribution services along with storage options. Also, end-to-end product tracking would be a nice addition.
Intermodal Handling and Drayage
Intermodal shipping implies that at least two different transportation modes were used for delivery. That means if your freight was delivered by ship, train, or plane and need a truck to go to the warehouse or the receiver. A carrier should be able to provide container drayage and cross-docking service.
The Most Common Types and Methods of Transportation
There are four main transportation methods that are designed for freight shipping on the continent and around the world. Each method offers its own advantages and disadvantages and you should know them before planning the logistics part of your business.
Road Transportation
Truck freight or road transportation is the best for businesses, especially e-commerce ones. It provides great options for small shipments that have to be rapidly delivered right to the customer. 
Advantages road freight provides:
Very little restrictions, compared to other transportation methods
Cost-efficient due to fuel and truck maintenance costs less
More accessible
Offers variety of shipping services
Allows door-to-door delivery
Disadvantages:
Truck freight takes more time to deliver freight on long distances
You can't control how your freight will be handled
Rail Transportation
Train shipping is a fast ground transportation method that can handle high capacity loads. 
Advantages rail freight provides:
Has more capacity and can carry bulk freight
Little chance of delay because of fixed schedule
Has less impact on the environment
Disadvantages:
Accessibility limited by railroads and stationsTruck freight takes more time to deliver freight on long distances
Rail shipping has longer transit time than truck or air freight
Sometimes require multiple transfers throughout the process
Air Transportation
Transportation by plane is the newest shipping method, however, it provides fast worldwide delivery of most freight types. Air fleet industry grows fast and offers more and more shipping possibilities for businesses.
Advantages air freight provides:
The fastest transit timess
Fixed schedule
High level of freight security and less handling
Disadvantages:
Costs more than other transportation methods
Limitations in terms of allowed freight types and weight
Sea Transportation
Marine transportation takes up to 90% of the worldwide trade economy. Sea freight is great for enormous amounts of freight and extra heavy loads.
Advantages sea freight provides:
Provides more space for freight
Can handle extra heavy loads
Costs less than air transportation
High safety due to set routes and planned schedule
Disadvantages:
What Affects Freight Shipping Rates
Pricing in freight shipping relies on many factors. Most of them are not depending on you as a consignor. The factors are:
Freight weight
Freight class
Freight density
Distance between pickup and delivery
Chosen transportation method or service
Fuel cost
Seasonality
Rates negotiations.
ASK US
Please fill out the form and one of our experts will contact you as soon as possible.